Being Prepared for Your Move
No matter how big or small your move is, it is very important that your move is as stress-free, quick, and easy as possible. At Nice Guys Movers, we know that the moving process CAN be extremely stressful! But, with our tips and guidelines, we are determined to change that!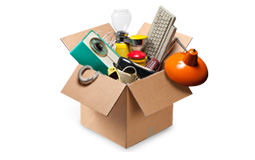 Keep your mover informed:
It is important that you are as descriptive as possible about your move, in order to get an accurate price quote.
Inform your mover on how many stairs are at your old and new home.
Inform your mover on anything on your street or at your home that may get in the way of their moving truck.
If Possible: Inform your mover on the weight of what they will be moving, or give them an estimate.
Inform your mover on whether or not they will be taking apart/putting together any items.
Inform your mover of the size of your larger items (cabinets, television, beds, dressers, tables, etc.)
Anything that you feel you should tell your mover, do. You can never be too descriptive when getting a quote. Everything helps!
Doing what you can to help your movers, will make the moving process quick and less stressful, for everyone!The day of moving, make sure to have everything ready, ahead of time.
Make sure you are available to answer any of the movers questions.
Ask your mover any questions that you may have, and inform them of any concerns.
Do what you can to make the moving day