Testimonials & Meet Your Crew
You will be pleasantly surprised if you hire these wonderful young men. Can't say enough things. Final price agreed to before the start of the job. Broke nothing. Happen to be nice to speak with and pleasant young men. 5 stars. To good to be true. They did a great job. Courteous, Careful and conscientious. I would recommend and use them again.
M.D.Janice Cats & M.D. John Gates., Santa Rosa CA
April 28th, 2019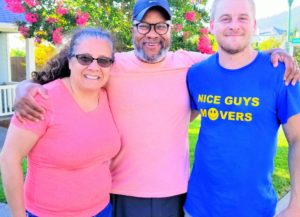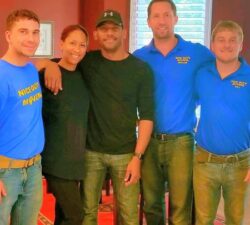 Dillon and Benjermin were simply a pleasure. They certainly knew what they we're doing, and after about 5 minutes of watching I went and ran some errands as these two needed no supervision from me. They did a great job and got the job done quick and without any damage. Apparently dog lovers as well Besos (my Dog) was the biggest fan of all playing with them frequently. Thanx Guys!
San Anselmo CA
April 10th, 2019
I would like to thank Benjermin. A honest contractor. They do exist. I was offered a flat rate which I readily agreed to with all aspects of the contract explained to me. Benjermin, Mailik, Will, and Dillon worked a 14 hour day like it was normal and at the end of the day with my wife and I exhausted still insisted they would like to be "of service to us, to our satisfaction". They literally didn't want to leave until everything was done perfect. We let them go as we have a lot of home improvements to make to thehome and a lot of the stuff will be moved again. My family would like to THANK NICE GUYS, GREAT COMPANY!!
Stacey & Adam & Family, Novato CA
March 26th, 2019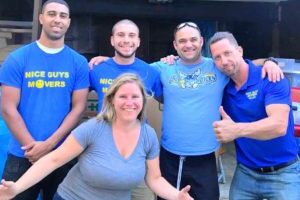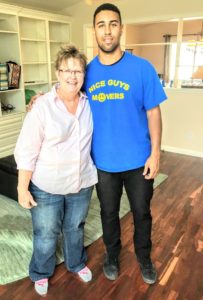 Our crew from Nice Guys!!! was wonderful. Benjermin and Malik did a great job. The job itself took almost the whole day and half the night. These guys really worked hard and didn't break anything. It was our pleasure to buy these hardworking young men lunch and dinner and ofcourse tip them when they we're done. Thanks again, highly recommend.
Barbara Honed, North Beach (San Francisco) CA
June 24th, 2019
My family and I moved this weekend and it was quite a undertaking with 4 kids and two animals, ughghghghh!@!! I don't know how I would of survived it without Dillon (crew leader) being in charge and making the move go as smooth as possible. We moved from Fountain Grove to a new home we purchased in Calistoga and the move had many difficult parts, including a piano and a full sized trampoline. These guys are Nice and Good at their jobs. Sincere Thanks.
Banks Family, Calistoga CA
June 22nd, 2019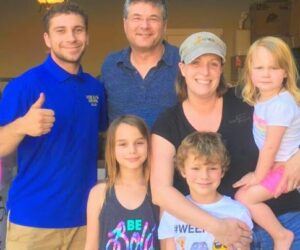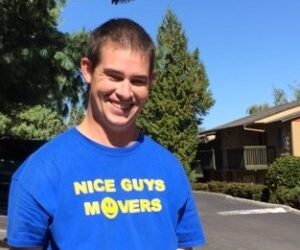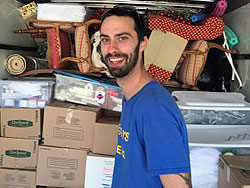 Nice Guys Movers executed the move perfectly. When I had an emergency in the middle of moving, they worked-out a solution for me. The movers were professional and they worked hard. It was clear from the start that everyone was a team and there were no slackers. It was impressive to watch the teamwork among the movers, and they were personable and kept me informed throughout the day. I have moved 15 times over the course of my adult career and I highly recommend this company for moving.
Clark Heneis,
Calistoga CA Sonoma County
June 7th, 2019
My wife, son & I moved from San Rafael, CA to San Ramon in the East Bay and we couldn't be happier with our service from Nice Guys Movers. Very professional, efficient and well trained. You get your money's worth with this company. Dilon & Aaron are great guys and did a great job, my compliments to them for their managers, they we're GREAT. Have a goood summer guys, don't work to hard.
Sanjay & Shuana Gutap, San Ramon CA
May 28th, 2019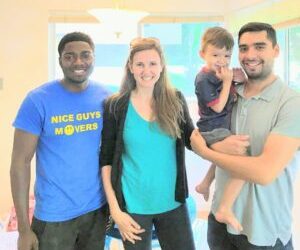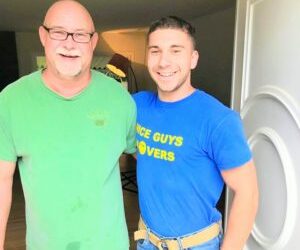 My daughter recently graduated from Sonoma State and I need to have her and her roomates things moved back to my home in Lucas Valley. The movers were great and very pleasant. My daughter's and her roomates went out of the way to tell me how friendly and professional the young men were from Nice Guys. Thank you from a Dad. I would use Nice Guys again if needed. Much Thanks!
Ben Carlson, Lucas Valley (San Rafeal) CA
May 13th, 2019
Picture is worth a thousand words, hope are picture helps you make your decision when you hire a mover. Benjermin was Awesome and a great leader with the guys. His crew, Aaron, Dillon, and Will were admittedly equally Awesome. Kate and I just bought are first home in Napa and Nice Guys made a happy experience all the more wonderful with their great service and pleasant demeanor.
John & Kathryn Wright, Napa CA
May 1st, 2019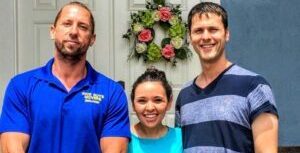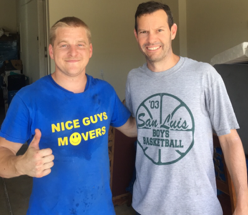 I was very happy with the move. Sean and Matt showed up on time and took care of my furniture and boxes very efficiently and very quickly. They didn't need to disassemble the furniture, which was my concern, and everything was done in less than 4 hours. Nothing got broken during the move and I was settled in my new apartment very quickly.
Gearson Family, San Rafael CA
April 26th, 2019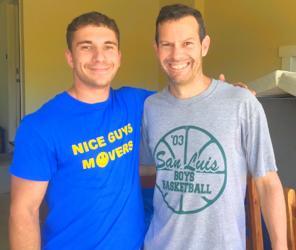 If you are looking at moving Benjermin and his team are the most professional team that I've seen. I had to move a few times in the past few years and they are the best that I had so far. They made all the process very smooth and easy for me with a very competitive price. I would recommend them to anyone moving in Sonoma County.
Tonay Coal, Penngrove, CA
March 7th, 2019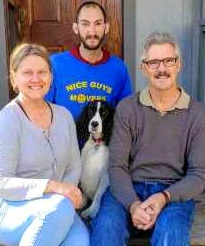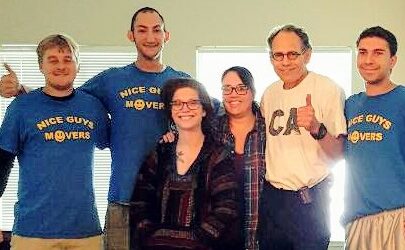 I've moved several times in the past 6 years and I always used movers, but this was the best I've had. There was emphasis put on caution with every piece of stuff. Carefully inspected and wrapped every piece of furniture before they started loading those to their truck. William, supervisor was watching and made sure that all employees were doing their job professionally. I highly recommend them!
Laura Peterson, Saint Helena CA
February 20th, 2019
Dylan was our crew leader. The other guys were great as a well. They made the wholprocess very smooth and easy for me with a very competitive price. I would recommend them to anyone moving in Sonoma County.
Jollen Hanson, Bodega Bay, CA
January 6th, 2019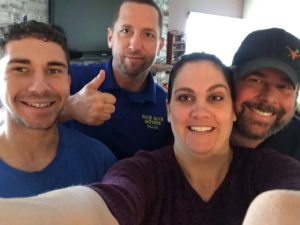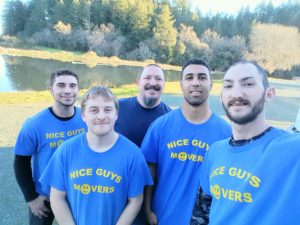 I used Nice Guys Movers because my parents needed to move in with me, so they helped take their stuff to a storage unit to Sonoma County. Last minute we asked to add a second stop so they could bring a few things to my house, and they were very accommodating Thanks to their attention to detail and the movers' efficiency (they were also very kind and polite) the price they quoted me was pretty spot on. I would highly recommend them!
Nathan Wayans, Windsor CA
March 11th, 2020
Nice Guys made quick work of my move. Efficient and helpful, they asked if I had a preference on furniture placement and unwrapped the furniture so that after a long move day I only had to sit and relax. Well as relaxed as could be with boxes waiting to be unpacked ? The only negative point was in the scheduling. The previous move took longer then scheduled so my team was late getting to my job. Once on site they got right to work and still finished on time! If your moving in the Marin area ask for Nice Guys team, you'll be glad you did
Meagaen Kortlin, Tiburon CA
March 10th, 2019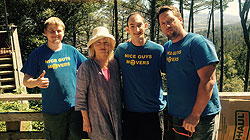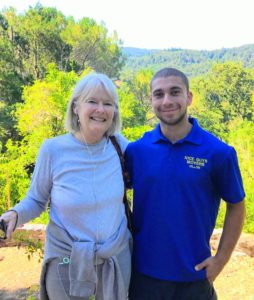 Did a great job. Would highly recommend. I have moved 15 times over the course of my adult career and I highly recommend this companies
Janice Flynn, Tiburon CA
March 2nd, 2019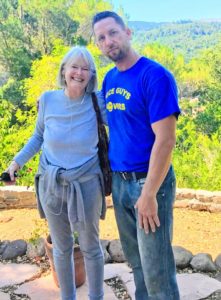 Diffidently Nice Guys! and good movers too! I have to say all around good experience. The move did take longer than expected though. The extra cost wasn't a ton over the estimate but none the less I will have to ding a star. Benjermin and his crew were great though, kids and dogs seem to be fond of the crew as well LOL!!!
Betty Jordan, Marin, CA
February 27th, 2019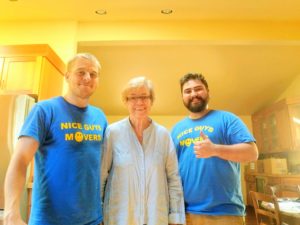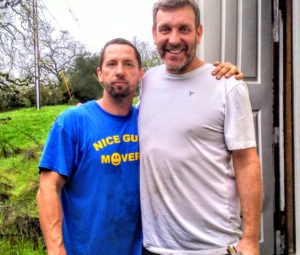 A+ in my book. Worth every penny, which was extremely fairly priced. From booking to the actual move Nice Guys Movers took the work out of my hands. THANK YOU Ben & Arron for your hard work. You made this day worry free. Thank you for taking such good care of ALL our belongings.
Don Snyder, Calistoga CA
February 14th, 2019
A friend recommended these guys for a new couch I needed picked up and delivered to my condo. It was very easy to schedule and they were able to do it within just a few hours. Very reasonable rate and they got a big, heavy piece of furniture up some awkward stairs in my loft. Would highly recommend.
Carol Tracy, Fairfax CA
February 4th, 2019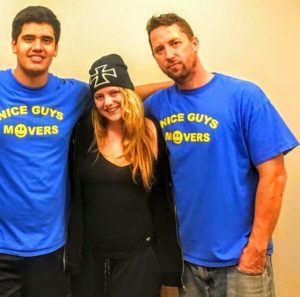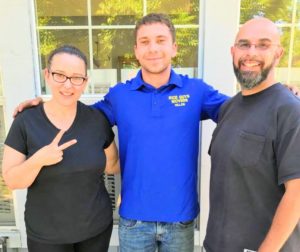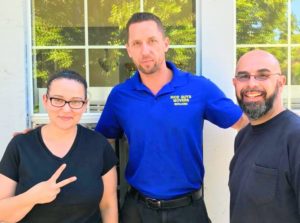 I'd like to thank Nice Guys for making my recent move one of the smoothest moves ever. They were prompt, prepared, and friendly. Overall, I was very impressed. The movers gave me a window for their arrival. I assumed they would be at my place in Sonoma later than earlier since they had to battle morning rush hour on the Bay Bridge. I was wrong! They factored morning rush hour into their schedule and arrived 20 minutes early! I was very impressed with their planning. I was feeling ill during the move, so the movers were very sympathetic to my condition and totally handled the move while I rested. I strongly recommend this moving company.
Carolyn Tierre, Sonoma CA
January 25th, 2019