Testimonials & Meet Your Crew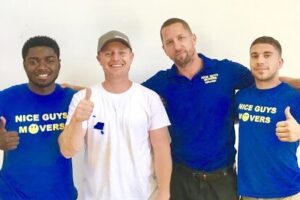 Was looking for professional San Diego Movers for a while. These guys saved me last minute. You will be pleasantly surprised if you hire these wonderful young men. Can't say enough things. Final price agreed to before the start of the job. Broke nothing. Happen to be nice to speak with and pleasant young men. 5 stars. To good to be true. They did a great job. Courteous, Careful and conscientious. I would recommend and use them again.
Chris Bolong, Pacific Beach CA
June 28th, 2020
Dillon and Benjermin were simply a pleasure. They certainly knew what they we're doing, and after about 5 minutes of watching I went and ran some errands as these two needed no supervision from me. They did a great job and got the job done quick and without any damage. Apparently dog lovers as well Besos (my Dog) was the biggest fan of all playing with them frequently. Thanx Guys!
Nicole, Borisan,Clairemont CA
June 15th, 2020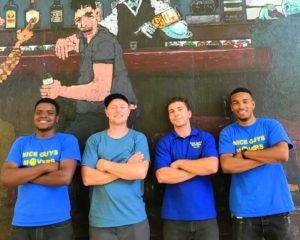 I would like to thank Michael. A honest contractor. They do exist. I was offered a flat rate which I readily agreed to with all aspects of the contract explained to me. These guys worked a 14 hour day like it was normal and at the end of the day with my wife and I exhausted still insisted they would like to be "of service to us, to our satisfaction". They literally didn't want to leave until everything was done perfect. We let them go as we have a lot of home improvements to make to the home and a lot of the stuff will be moved again. My family would like to THANK NICE GUYS, GREAT COMPANY!!
Jessie & Ken & Family, Downtown San Diego,CA
May 23rd, 2020
Our crew from Nice Guys!!! was wonderful. Their crew did a amazing job. The job itself took almost the whole day and half the night. These guys really worked hard and didn't break anything. It was our pleasure to buy these hardworking young men lunch and dinner and of course tip them when they we're done. Thanks again, highly recommend.
Daniel Burner, Point Loma,CA
May 18th, 2020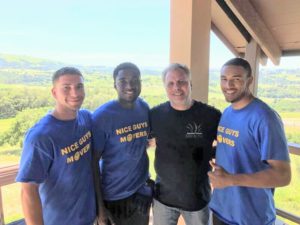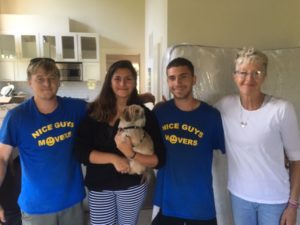 My family and I moved this weekend and it was quite a undertaking with 4 kids and two animals, ughghghghh!@!! I don't know how I would of survived it without Dillon (crew leader) being in charge and making the move go as smooth as possible. We moved from San Fran. to a new home we purchased in San Diego and the move had many difficult parts, including a piano and a full sized trampoline. These guys are Nice and Good at their jobs. Sincere Thanks.
Banks Family,
La Jolla, San Diego CA
June 22nd, 2020
Nice Guys Movers executed the move perfectly. When I had an emergency in the middle of moving, they worked-out a solution for me. The movers were professional and they worked hard. It was clear from the start that everyone was a team and there were no slackers. It was impressive to watch the teamwork among the movers, and they were personable and kept me informed throughout the day. I have moved 15 times over the course of my adult career and I highly recommend this company for moving.
Terry Winter, Little Italy CA
May 7th, 2020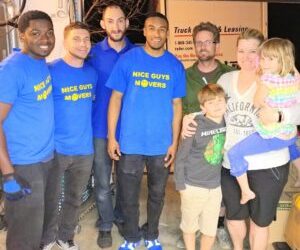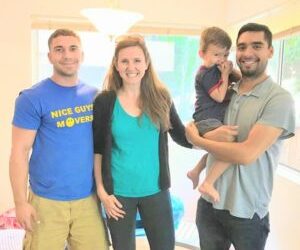 My wife, son & I moved from Carmel Valley, CA over too Ocean Beach  and we couldn't be happier with our service from Nice Guys Movers. Very professional, efficient and well trained. You get your money's worth with this company. Dilon & Aaron are great guys and did a great job, my compliments to them for their managers, they we're GREAT. Have a goood summer guys, don't work to hard.
Richard & Carol, Newsome, Ocean Beach,CA
April 28th, 2020
My daughter recently graduated from U.S.D. and I need to have her and her roomates things moved back to my home in Del Mar. The movers were great and very pleasant. My daughter's and her roomates went out of the way to tell me how friendly and professional the young men were from Nice Guys. Thank you from a Dad. I would use Nice Guys again if needed. Much Thanks!
Ryan Hayes, Linda Vista (San Diego) CA
May 13th, 2020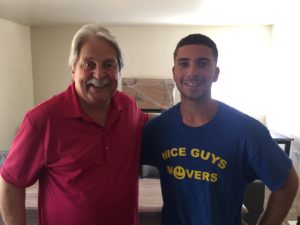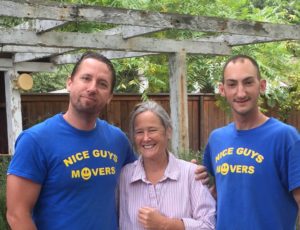 I was very happy with the move. this was the second time using this company and while moving is difficult, Nice Guys make it easy. They work quickly and carefully. They showed up on time with a nice sized truck and called in advance. All furniture was wrapped with reusable blankets for protection. Was on the road within a few hours! They disassemble and put all the furniture back together, which was my concern, and everything was done all in the same day. Nothing got broken during the move and I was settled in my new house very quickly.
Evelyn Hunt, La Jolla CA
April 26th, 2020
Picture is worth a thousand words, hope are picture helps you make your decision when you hire a mover. Dillon was Awesome and a great leader with the guys. His crew were admittedly equally as Awesome. Natalie and I just bought are first home in North Park and Nice Guys made a happy experience all the more wonderful with their great service and pleasant demeanor.
Alex & Natalie Perez, North Park CA
May 8th, 2020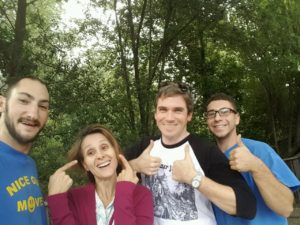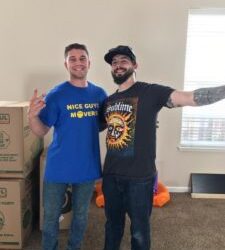 Nice Guys did a great job. Michael was very responsive and fast at communicating the logistics and timing. Paid a deposit first and then the rest to the movers. Super easy. The movers themselves were equally fantastic. They were so friendly, cheerful and efficient. I will definitely use them again!
Mathew Reeds, Torrey Pines CA
April 4th, 2020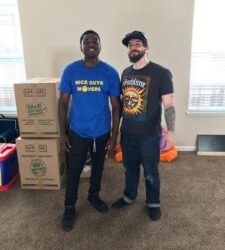 I would never have guessed how these guys were gonna get a 800lb + Totem Poll from my ranch in Napa to my home in Sorrento Valley. But they got it done, Great crew very professsional.
Sloan Family, Sorrento Valley
March 20th, 2020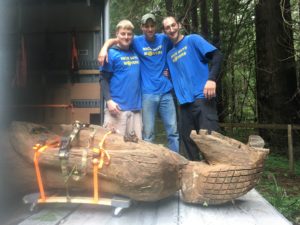 Nice Guys Movers gets a huge thumbs up from me. Benjermin and Aaron very friendly and professional. Showed up on time and took great care of my belongings. I would highly recommend them and will definitely use again. They were a referral from my father in-law and deserved every nice word said about them.
Fostin Whoritz, Mission Bay CA
March 9th, 2019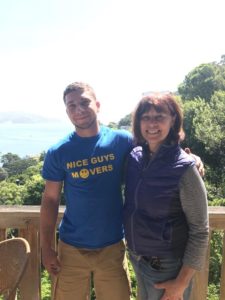 We used Nice Guys Movers to move our 1 bedroom apartment. The 2 guys arrived in the agreed time frame. They were very nice, professional and quick with the move. They didn't try to prolong the move at all. Both guys were also impressively strong movers and hauled our furniture up a 3 story stairwell without taking breaks.
Janet Rooteen, Encinitas CA
March 7th, 2019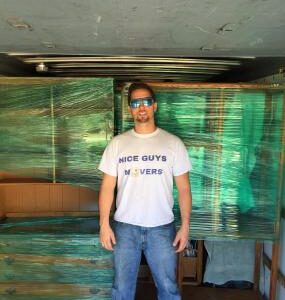 These Guys showed up on time and gave us a heads up in the morning on their arrival.. They worked quick and efficiently. Definitely recommend. Thanks Christian and Frank!
Craig Nelson, Del Mar CA
November 2nd, 2019
I typically never review a business because usually as a Business Owner I am a very unfair appraiser. However these movers I remembered. They did a great job. I have moved my business over 6 times since moving to Ca just about 20 years ago. And my last 2 places I've operated I decided to hire movers from Craigslist which was horrible. I found these nice young men highly recommended on Google.
Jake Burnett, Linda Vista, CA
August 7th, 2019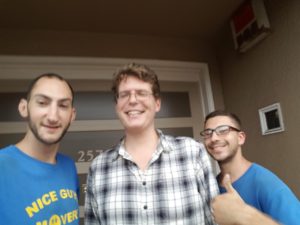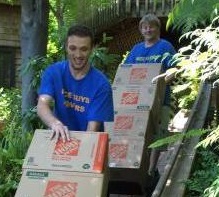 If you are looking at moving Christian and his team are the most professional team that I've seen. I had to move a few times in the past few years and they are the best that I had so far. They made all the process very smooth and easy for me with a very competitive price.
Adrian Pearson, Lincoln Park, CA
September 15th, 2019
I was skeptical about using movers but my HOA said Nice Guys Movers was highly recommended. So glad we did! They had a prompt arrival and were gentle with our belongings. Everything arrived in great condition.
Deja Adams, Encinitas, CA
August 8th, 2019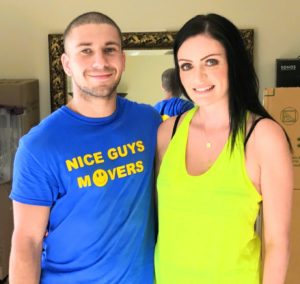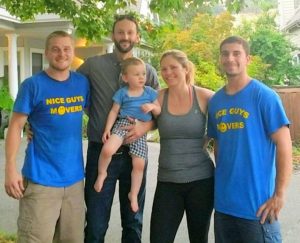 Our Family had a great expierence with Nice Guys Movers! Dillon and all the guys we're GREAT. I HIGHLY RECOMMEND THIS COMPANY. Want your move day to go as planned, call Nice Guys and you can actually go deal with your new home instead of babysit your movers, these guys don't need your help their always working. Did a great job! Thanks again
Caspro Family, Carlsbad CA
July 16th, 2019
Move went well, considering it took 3 whole days I really don't know how these guys do it. Nice Guys Movers and Michael (our crew leader) kept us informed of the process and every time we came by they were working diligently. We had a flat rate but these guys worked their butts off regardless.
Erica Lindstorm, Spring Valley CA
July 14th, 2019